Meet the turtles!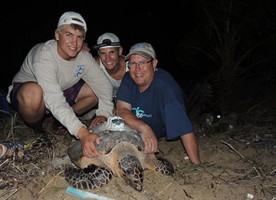 »
Shiloh 4 Hope was spotted by Mark Rimkus, Catina Boster, & Natalie Tinkham as part of a study abroad course with Marymount University. Shiloh 4 Hope, a nesting hawksbill found at Gales Point, Belize was tagged on July 18, 2014 in Marymount University's & Hawksbill Hope's satellite tagging program. You can follow Shiloh 4 Hope here: http://www.seaturtle.org/tracking/index.shtml?tag_id=130824 […]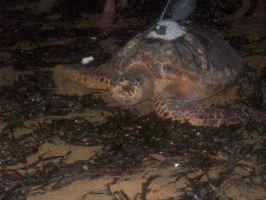 »
Greater Hope was tagged and released 8/31/2013, thanks to Kevin Andrewin, who was able to tag Greater Hope by himself in the rain. Greater Hope was photographed in 2009 where she nested in the same location.  She was recognized from her barnacle pattern that remained the same since 2009. You can follow Greater Hope here: http://www.seaturtle.org/tracking/index.shtml?tag_id=130826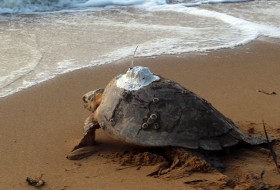 »
While patrolling the beach on July 22, 2013 at approximately 2:00am students in Marymount University's Belize study abroad program found a nesting female hawksbill sea turtle.  Dr. Rimkus from Marymount University, and Kevin Andrewin from Gales Point attached a satellite tag and released her. The hawksbill sea turtle was named CareNaTo in honor of Andy Brown's Caretta Nature […]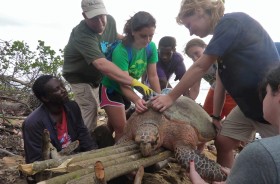 »
First turtle of 2012 is Moochula! Her name was chosen by Leonard from Gales Point who found her wedged under a root system at the edge of the shore. Moochula is a local word from a sambii song that means nice, fine, sooo good!