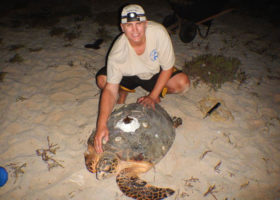 You can follow Wabaki here: http://www.seaturtle.org/tracking/index.shtml?keyword=Wabaki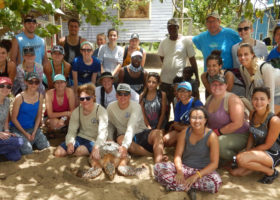 We are using a different tag this year. Its a little bit more aerodynamic it will swim through the water easier on the turtles back and its got some nice bumpers on it. So, when the turtle is bumping up against coral it doesn't wear off the antenna and so will keep a signal and […]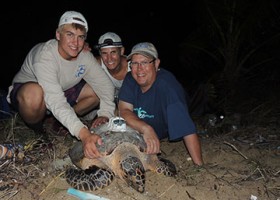 Shiloh 4 Hope was spotted by Mark Rimkus, Catina Boster, & Natalie Tinkham as part of a study abroad course with Marymount University. Shiloh 4 Hope, a nesting hawksbill found at Gales Point, Belize was tagged on July 18, 2014 in Marymount University's & Hawksbill Hope's satellite tagging program. You can follow Shiloh 4 Hope here: http://www.seaturtle.org/tracking/index.shtml?tag_id=130824 […]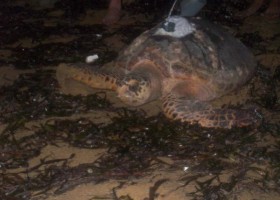 Greater Hope was tagged and released 8/31/2013, thanks to Kevin Andrewin, who was able to tag Greater Hope by himself in the rain. Greater Hope was photographed in 2009 where she nested in the same location.  She was recognized from her barnacle pattern that remained the same since 2009. You can follow Greater Hope here: http://www.seaturtle.org/tracking/index.shtml?tag_id=130826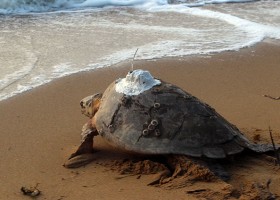 While patrolling the beach on July 22, 2013 at approximately 2:00am students in Marymount University's Belize study abroad program found a nesting female hawksbill sea turtle.  Dr. Rimkus from Marymount University, and Kevin Andrewin from Gales Point attached a satellite tag and released her. The hawksbill sea turtle was named CareNaTo in honor of Andy Brown's Caretta Nature […]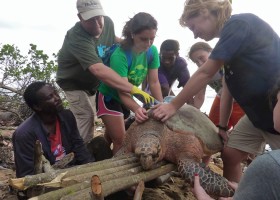 First turtle of 2012 is Moochula! Her name was chosen by Leonard from Gales Point who found her wedged under a root system at the edge of the shore. Moochula is a local word from a sambii song that means nice, fine, sooo good!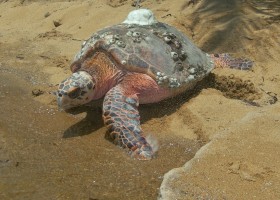 Pact Serenity is a TV star!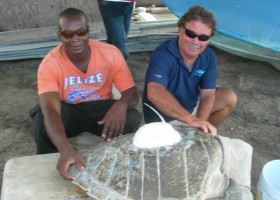 Sea Turtle Conservation Network members placed a satellite tag on an olive ridley sea turtle that was found stranded in Belize earlier this year. Kevin Andrewin shared his knowledge and led the team in applying the satellite tag, which was donated by Dr. Todd Rimkus from Marymount University and Hawksbill Hope!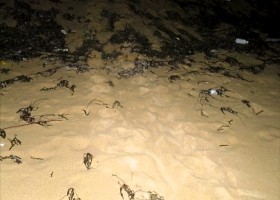 Peace is is our second tagged turtle. Thanks to Kevin Andrewin and his Gales Point turtle team for locating and tagging Peace.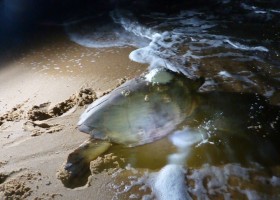 Hope is our first tagged turtle! After many nights of searching, Kevin Andrewin, who leads the local research and preservation team in Gales Point, Dr. Todd Rimkus and Marymount students tagged her during the study abroad program.